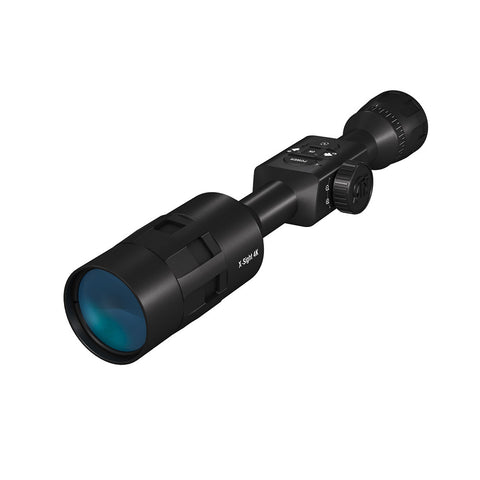 ATN Corporation X-Sight 4K PRO with Ultra HD Optics 5-20x
X-Sight 4K PRO 5-20X, Smart,D/N,Ultra HD Description
Update your collection with the ATN5-20x X-Sight 4K Pro Digital Night Vision Riflescope. Unlike common riflescopes, this digital night/day vision scope uses a 3864 x 2218 digital imaging sensor, a color display, and sophisticated electronics with wireless capability to deliver and capture images while still featuring a 30mm maintube for compatibility with your old rings. Using this scope enables you to see your targets or game during the day or in low light, record, and broadcast your activities and achievements directly from the scope via built-in Wi-Fi. For instance, its Dual Stream Video capability broadcasts videos over Wi-Fi and simultaneously records them on an external memory card. Other useful features include the electronic compass and a multitude of in-view functions, reticles, and ballistics calculators. Its Obsidian IV dual core processor seamlessly manages sensors, the micro-display, and Wi-Fi/Bluetooth connectivity. It allows you to activate and use layers of functionalities, various reticle patterns, and windage and ballistics data and calculators. Another highlight of this riflescope's capabilities is its Recoil-Activated Video (RAV), which automatically starts video recording (1080p at 30/60/120 fps) when a built-in accelerator senses a recoil. It allows you to stay completely immersed in action while also automatically capturing important moments right after you pull the trigger.
Other noteworthy highlights are the Smart Rangefinder, which estimates distances to your target and automatically adjusts point of impact, and the Ballistic Calculator, which takes into account your firearm, caliber, ammunition, range, wind, and aiming angle and makes trajectory corrections. This scope also has many built-in sensors that stamp your images and videos with date, time, and location.
The black anodized aluminum housing is durable and lightweight. It offers water resistance so you can use this scope in many weather conditions. On the top of this optic you will find a compact control pad with menu buttons and a knurled digital zoom knob on the left side. For attaching to your firearm, the scope includes three Picatinny/Weaver 30mm rings: two standard rings and one cantilever ring.
Features:
Digital Night/Day Sensor:
- Night/Day vision ATN Ultra HD 4K M265 sensor
- 3864 x 2218 resolution
- ATN Obsidian IV dual core
Optical Performance:
- 5-20x magnification via a side zoom wheel
- High-definition (HD) objective optics
- 5° angle of view
- 33' minimum focus distance
- 90mm eye relief
Electronic Sensors:
- ATN Obsidian IV dual core
- Wi-Fi and Bluetooth
- Built-in microSD memory slot with a 64GB capacity
- USB Type-C port for charging and PC connection
- Electronic compass
- 3D gyroscope
- E-barometer
- 3D accelerator
- Microphone
Display & Video Recording:
- 1280 x 720 HD display
- 1080p videos at 30/60/120 fps recording resolution
- Black hot, white hot, and color mode
- Smooth Zoom provides seamless magnification adjustments
- Captures JPEG images and MP4 videos
- Dual Stream allows simultaneous streaming and recording
Use and Handling:
- Intuitive user interface
- Compact control pad on the top
- Rotary zoom dial knob on the left side
- In-view sensor readouts and status indicators
- Smart Rangefinder feature estimates distances and adjusts point of impact
- Ballistic Calculator makes corrections for your firearm, caliber, ammunition, range, wind, and aiming angle
- One Shot Zero allows an easy way to zero the scope
- RAV: recoil-activated video recording
Construction Details:
- Aluminum alloy construction
- 30mm maintube diameter
- Impact-resistant electronics
- Two straight and one cantilever 30mm Picatinny/Weaver rings are included
- Weather-resistant performance
Specifications:
- Array Configuration: 3864 x 2218 ATN 4K M265 Sensor and Night and day vision capability
- Magnification: 5-20x
- Field of View: 5° maximum
- Minimum Focus Distance: 32.80'
- Eye Relief: 90mm
- Maintube Diameter: 30mm
- Processor: ATN Obsidian IV dual core
- Display: 1280 x 720p HD display
- Video Output Resolution: 1080p at 30/60/120 fps
- Image Format: JPEG
- Video Format: MP4
- Integrated Sensors: 3D gyroscope, 3D accelerometer, E-compass, and microphone
- Wi-Fi: Yes
- Bluetooth: Yes
- External Memory: microSD: 4-64 GB, class 10
- Ports: microSD and USB Type-C
- Mobile Devices: iOS & Android
- Battery / Runtime: 1 Internal lithium rechargeable battery / 18 hours
- Weatherproofing: Weather resistant
- Dimensions: 14.90" x 3" x 3"
- Weight: 35.60 oz
- Color: Matte Black
---
We Also Recommend
---